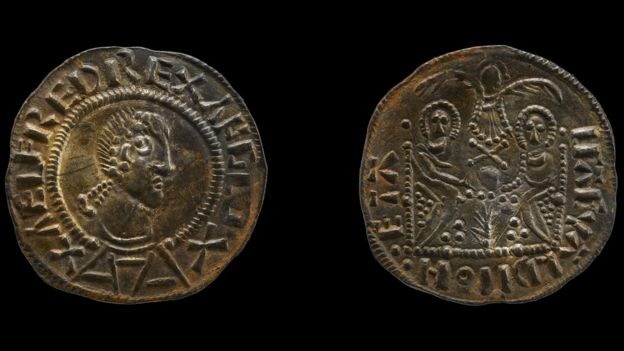 Most of the estimated 300 coins believed to be in the hoard are still missing
Two metal detectorists stole a £3m Viking hoard that experts say has the potential to "rewrite history".
George Powell and Layton Davies dug up about 300 coins in a field in Eye, near Leominster, Herefordshire, in 2015.
They did not declare the 1,100-year-old find, said to be one of the biggest to date, and instead sold it to dealers.
They were convicted of theft and concealing their find. Coin sellers Simon Wicks and Paul Wells were also convicted on the concealment charge.
The hoard included a 9th Century gold ring, a dragon's head bracelet, a silver ingot and a crystal rock pendant. Just 31 coins - worth between £10,000 and £50,000 - and some pieces of jewellery have been recovered, but the majority is still missing.
Read the rest of this article...