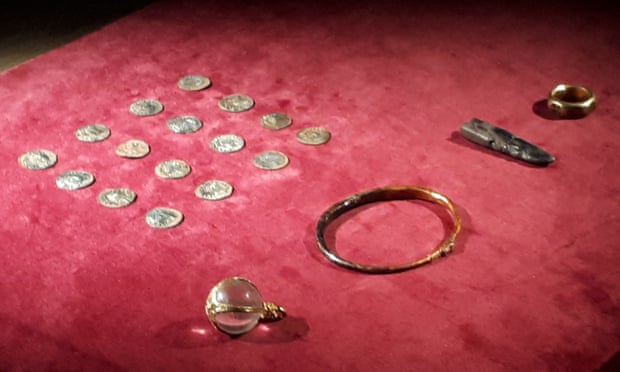 Coins and jewellery from the hoard found by George Powell and Layton Davies. Photograph: .
An expert gasped when he saw coins unearthed by two men now convicted of theft
On a sunny day in June 2015 amateur metal detectorists George Powell and Layton Davies were hunting for treasure in fields at a remote spot in Herefordshire.
The pair had done their research carefully and were focusing on a promising area just north of Leominster, close to high land and a wood with intriguing regal names – Kings Hall Hill and Kings Hall Covert.
But in their wildest dreams they could not have imagined what they were about to find when the alarm on one of their detectors sounded and they began to dig.
Powell and Davies unearthed a hoard hidden more than 1,000 years ago, almost certainly by a Viking warrior who was part of an army that retreated into the Anglo-Saxon kingdom of Mercia after being defeated by Alfred the Great in 878.
There was gold jewellery including a chunky ring, an arm bracelet in the shape of a serpent and a small crystal ball held by thin strips of gold that would have been worn as a pendant. Beneath the gold were silver ingots and an estimated 300 silver coins.
The law is clear: such finds should be reported to the local coroner within 14 days and failure to do so risks an unlimited fine and up to three months in prison. Any reward may be split between the finder, land owner and land occupier.
Read the rest of this article...