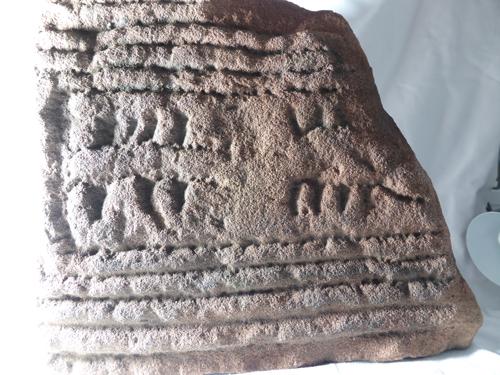 This rare and exciting fragment of Anglo-Saxon sculpture was found on an archaeological excavation at Mark Rake, Bromborough, Wirral in late 2016! The carved sandstone fragment is part of a slab carved between 900 and 1100 AD, and is decorated with incised lines marking out a border around what is probably a cross.
The site where it was found lies in the middle of Bromborough village, just to the north of the parish church which is dedicated to St Barnabas, and until recently the plot of land formed part of the Rectory gardens. The site came to the attention of Museum of Liverpool's archaeologists when a planning application was made to build houses on the site after it was sold by the church.
Little is known of the origins of villages on the Wirral, but there are hints that many of them have been occupied since at least the Roman period and possibly longer; earlier excavations at Thorstone Drive, Irby and Hilary Breck, Wallasey, had found evidence for Prehistoric, Roman and early medieval buildings and other features and Mark Rake's location, immediately next door to a church mentioned in the Domesday Survey, suggested that it had the potential for similar finds.
Read the rest of this article...