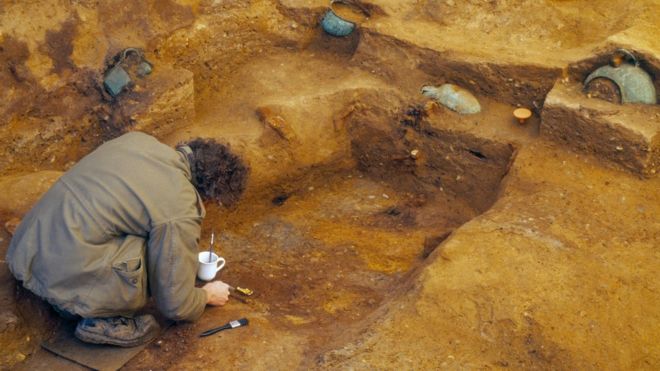 The Prittlewell burial site was discovered in 2003
A royal burial site found between a pub and Aldi supermarket has been hailed as the UK's answer to Tutankhamun's tomb.
Workers unearthed the grave, which contained dozens of rare artefacts, during roadworks in Prittlewell, near Southend, Essex, in 2003.
Tooth enamel fragments were the only human remains, but experts say their "best guess" is that they belonged to a 6th Century Anglo-Saxon prince.
It is said to be the oldest example of a Christian Anglo-Saxon royal burial.
Now, after 15 years of expert analysis some of the artefacts are returning to Southend to go on permanent display for the first time at the Central Museum.
When a team from the Museum of London Archaeology (Mola) excavated the site, they said they were "astounded" to find the burial chamber intact.
Read the rest of this article...