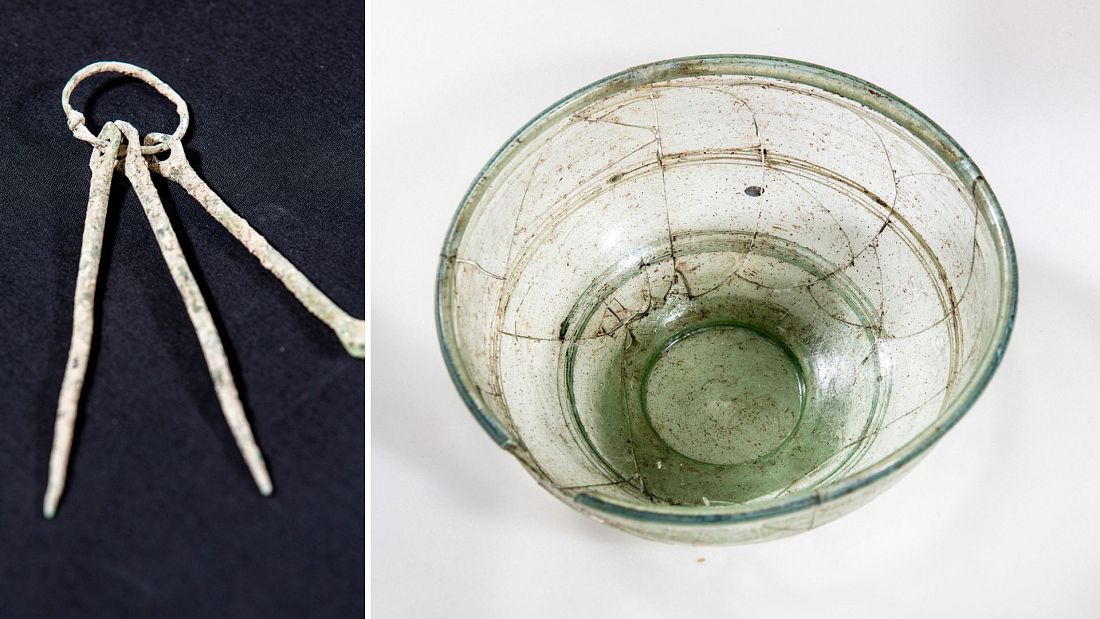 Image shows a toiletry kit and a tubular rimmed glass bowl excavated from Wendover, Buckinghamshire - Copyright AP Photo
Archaeologists working on a site in Buckinghamshire in England have unearthed the well-preserved graves of a clique of wealthy Anglo-Saxons.
The site, which was excavated as part of the ongoing construction of the UK's high-speed rail service HS2, contains 138 graves and is one of the largest ever uncovered.
Among the items found were a number of grooming tools including earwax removers, toothpicks, tweezers, combs and even a tube that could have contained makeup such as eyeliner; shedding light on how our ancestors practised self-care.
One of the burials, thought to be a male aged between 17-34, was found with a sharp iron object in his spine. Researchers believe he was stabbed from the front before the object embeded in his spine.
The insights offered into Anglo-Saxon life are unprecedented. The site is known to have been used by Romans during the Bronze Age and even in the Neolithic period, but the 5th and 6th centuries from which the objects are dated represents a gap in the historical record.
Read the rest of this article...